Have You Been Dreaming About Private Fly Fishing Clubs Lately?
Well then, imagine a private fly fishing club with over fifty miles of some of the best trout waters in the West to call your "home water." No crowds, just unspoiled nature…a place where you can bring friends and family to build lasting relationships and create lifelong memories.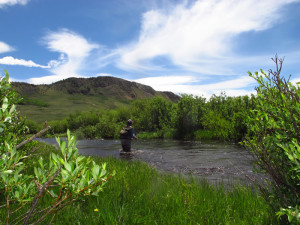 The North Park Anglers Fly Fishing Club (NPAFFC) was newly created during the winter of 2013 by Buffalo Creek Outfitters, LLC (BCO). Buffalo Creek Outfitters, directed by General Manager John Ziegman, is part of a large ranching and outfitting family located in the beautiful North Park (Jackson County) area of Northern Colorado. We own and operate several area ranches, encompassing nearly 18,000 acres of private land, where we raise beef cattle and mountain meadow hay as well as providing hunting, fly fishing, lodging and other forms of outdoor recreation. The Buffalo Creek Ranch is our "home ranch" and the site of our full service lodge. Other area ranches that we own and operate are the Headwaters Ranch, the Illinois River Ranch, and land located around Meadow Creek Reservoir and Pole Mountain.
For the past 12 years we have owned and operated North Park Anglers (NPA), a full service fly shop located in Walden, Colorado. It serves as the retail and fly fishing arm of our outfitting business as well as the central office for the NPAFFC. NPA's manager of the past ten years, Scott Graham, is also charged with the day-to-day operations of our fly fishing club. The member's clubhouse, The Liars Lair, is located on the second floor above our fly shop.
For the past decade a portion of the NPAFFC waters were leased by another outfitter and operated as the North Park Fishing Club and, more recently, as the Trout Valley Fishing Club. Their lease was terminated in the fall of 2012 and the landowner approached us take over the lease. Since we, the management team of BCO's, have been providing hunting and fishing opportunities in the North Park Area for 24 years, the leasing of additional property and the formation of a angling club was a logical progression of our many years of acquiring and professionally managing private fishing opportunities. We are year 'round residents
Confused yet? What does this mean to you, our valued customer? In simplest terms; if you're looking for exceptional trout fishing opportunities in one of the most beautiful areas of the Rocky Mountains, if fishing a stretch of river where solitude is paramount to your experience, if catching a wild and elusive brown trout over 20" sounds thrilling, and if spending a few days in a secluded cabin in the shadow of snow-capped peaks and within 100 feet of a trout stream all sound like a fantasy to you, membership in the North Park Anglers Fly Fishing Club is the answer to your dreams. But don't forget, with the variety of our services, we can also provide you the latest fly fishing gear, a variety of area lodging options, a guided elk hunt, a family vacation stay on our ranches, and even some beef for your freezer or hay for your horses.
Join the North Park Anglers Fly Fishing Club today and start realizing your fly fishing dream!