FAQs
General:
Q. What is the North Park Anglers Fly Fishing Club (NPAFFC)?
A. It is non-equity, private membership club providing members fishing access to more than 50 miles of private rivers and 7 private lakes.
Q. Where is the club located?
A. The club headquarters is located in the North Park Anglers fly shop in Walden, Colorado. All club waters are conveniently located within Jackson County, commonly referred to as North Park. North Park is approximately 45 minutes east of Steamboat Springs, 2 hours west of Fort Collins, 3 hours northwest of Denver, and 45 minutes southwest of Laramie, Wyoming.
Q. Why would I want to join a private fishing club?
A. Have you ever dreamed of having your own private trout stream but found yourself a few million dollars short for the purchase price as well as upkeep costs? Today's public waters often receive excessive fishing pressure depreciating both the quality of the fish and, through overcrowding, the quality of the experience. Club members have access to waters that are professionally and strictly managed for generous populations of unpressured, healthy trout. Through our club reservation system, members are assured to have a stretch of river to call their own for the day. Your dream can be a reality this year–join today.
Q. What fish species will I catch?
A. Brown, rainbow, cutthroat, and brook trout inhabit our private rivers and lakes. Some public waters in our area also provide anglers the opportunity to catch tiger muskies, kokanees, and even grayling.
Q. Is this fly fishing only; can I keep any fish?
A. While the club is targeted toward the fly fisherman, members may use traditional spinning gear and lures provided they contain only a single, barbless hook. All fishing flies and lures must be barbless. Bait (worms, minnows, powerbait, etc.) is prohibited. Fishing is catch-and-release only. Fish must be immediately released into the water unharmed. To ensure the safe release of fish, landing nets are required and must contain a rubber netting material.
Q. What types of memberships are offered?
A. Individual and Corporate are available.
Q. How many memberships will be offered?
A. Quality fishing and solitude are the cornerstones of our club vision. In order to assure this goal, memberships are limited to 65. If we should acquire additional waters in the future or find that our resource is being under-utilized, we might make more memberships available, but never at the sake of compromising quality or assuring seclusion.
Q. When are the club waters available to members?
A. The club is open annually from April 1st to October 31st and daily from ½ hour before sunrise to ½ hour after sunset. A couple stretches of the upper Canadian River and the lower Illinois River will have access restrictions on them during the big game hunting seasons. In cases of severe drought, waters reaching temperatures and/or dissolved oxygen levels that are deadly to trout could require temporary restrictions. Any restrictions that may arise will be posted on the club website.
Q. Can members fish any of the club waters at any time?
A. To maintain quality fishing and seclusion, club waters are divided into many sections known as "beats." A beat is intended to provide enough fishing opportunity for two-four anglers during a day of fishing. Members have access to all club waters but advance reservation of a particular beat is required. A reservation is required to fish any of the club lakes as well. This policy is the main component in assuring club waters, and their fish, receive ample recovery time from fishing pressure and is paramount in distributing members to assure seclusion.
Q. How do I make a reservation?
A. You can utilize our on-line reservation system 24/7 or call our office during regular business hours, 7 days a week. To allow fair access to all club members, you may have only two reservations pending at one time.
Q. As a member, may I bring guests to fish with me? If so, is there a charge for this?
A. Yes, members may bring up to three guests with them per visit. Each guest requires a daily pass, which costs $125. However, the same guest may only visit four days per calendar year, after that, they should purchase their own membership. Guests must always be in the direct accompaniment of the club member. Members are strictly prohibited from "guiding" their guests on club waters; guests must be friends or family, not paying fishing clients.
Q. Can my spouse and children join me on club waters?
A. Yes, individual memberships allow you to bring your spouse and children with you. The daily guest pass of $25/person per visit will apply and there is not a restriction on how many days family members can visit the club waters during the year. As with all guests, they must be accompanied by the club member.
Q. Can I bring my dog with me?
A. Yes, only if it is well-behaved and under your direct control at all times. Direct control means never more than 10 feet away from you and not roaming freely around club property or waters. Most dogs, even if well-behaved, will chase wild animals and livestock creating a very dangerous and intolerable situation. Any dogs witnessed that are not under control of their owner will be banned from club properties. Dogs are not allowed at any of the clubs' premium lodging properties.
Q. Occasionally I like to fish with a guide, are there any opportunities for this?
A. The club retains a full-time, professional guide staff that has fished these waters for years. You can think of them as the club pros and your stream coaches; eager to share their local background, knowledge and expertise with you. Their services must be reserved in advance by calling the club office.
Q. Are boats allowed on any of the club properties?
A. Members may use personal belly boats or pontoon boats on the lakes only. Boats, canoes, and rafts capable of carrying more than one person are prohibited from any club rivers, streams, or lakes. Float fishing is possible on the North Platte River sections and, for safety considerations, is limited to guided trips only; no personal river floats are permitted.
Q. Do members have a say in the operation of the club?
A. While the memberships are nonproprietary and nonvoting, we do value members' input. Our plans include the development of an advisory board that can discuss issues and concerns about the operation with the club management. It is our goal to remain proactive with the needs and desires of our valued members.
Q. How long has the club been around and who manages it?
A. The NPAFFC was formed in 2013 by Buffalo Creek Outfitters, LLC dba North Park Anglers. A portion of the club waters were previously leased by another outfitter and operated as the North Park Fishing Club and the Trout Valley Fishing Club for the past decade. Buffalo Creek Outfitters management has been providing hunting and fishing opportunities in the North Park area for 24 years and the establishment of the North Park Anglers Fly Fishing Club is the culmination of these many years of acquiring and professionally managing private fishing opportunities.
Q. What type of member are you seeking?
A. Those seeking a reprieve from "crowded life" and yearning for extraordinary fishing experiences in wild, vast places. Anglers who make a good fit are true sportsmen: respectful and appreciative of natural places and always striving to leave them better than they found them.
Q. What are your stocking procedures?
A. Some of the rivers are managed strictly for wild trout populations and generally favor a brown trout fishery. All of the lakes receive regular stockings, as do some stretches of river.
Q. I like to bring friends and business clients with me who have never fly fished before. Do you have equipment they can rent?
A. Yes, we offer a full compliment of rental gear: waders, boots, rod/reels, float tubes, and fins.
Q. It sounds like an incredible and vast fishing resource; how will I know where to go and what is available to me?
A. Every member will receive a book that includes maps, gps coordinates, and detailed descriptions of the various waters, lodging facilities, access roads, fishing beats and parking areas. Each new member will be given a thorough ranch tour upon joining the club.
The Area
Q. What is North Park like? Is it scenic?
A. North Park is one of four major "parks" in Colorado. In geologic terms, a "park" is an open area surrounded by mountains. North Park encompasses approximately 1,600 square miles and is bound by the Continental Divide on the west and south and the Medicine Bow Range on the east and north. Less than 1,500 people reside here so it is still considered a frontier by government standards and designation. Elevations range from 8,000 feet in the valley floor to 13,000 feet on the surrounding peaks. Ranching is the predominant activity in the valley. It is the idyllic Rocky Mountain setting with snow-capped peaks, gin-clear streams, abundant wildlife and not a single stoplight. Walden is the county seat and provides medical services, an awesome fly shop, several restaurants, a grocery store, library, bowling alley, an indoor swimming pool, hardware, auto parts store, several motels, and, of course, a bar—The Stockman.
Q. What is the weather like?
A. Summer days can reach highs of about 80 degrees with nightly lows dipping to the forties. Spring and fall days can be highly variable with sunshine one minute and a snowstorm the next. Sunshine is the general rule but visitors should always come prepared for inclement weather.
Q. Is there an airport nearby?
A. Yes, Jackson County does have an airport capable of landing propeller and smaller jet aircraft. Fuel and hanger space is available. The airports FAA Identifier is 33V.
Q. What wildlife will we likely see?
A. North Park is considered the "Moose viewing capital of Colorado" and they are commonly seen throughout the area. Elk, mule deer, pronghorn antelope, coyotes, black bears, eagles, mountain lions, bobcats, badgers, and beavers are plentiful and commonly spotted by visitors.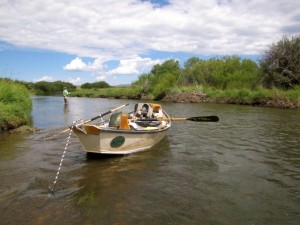 Lodging
Q. I live a long way from the club waters, what lodging is available?
A. The club provides three streamside cabins located on three different river systems. Their use is included in membership.
The cabins epitomize historic rustic charm, with no electricity or running water, and sit in spectacular settings within casting distance of trophy trout streams. Members will need to bring sleeping bags, cooking supplies, and food.
Q. I enjoy a wilderness experience during the day but prefer "creature comforts" during the evening. Are there any other lodging choices?
A. Yes, we provide several other lodging options in the town of Walden and on our private ranches. They include a three bedroom house in central Walden, a two bedroom townhome on the edge of town, and a newly constructed two bedroom house located at the base of a waterfall on our ranch about 15 miles from Walden. All are fully furnished and equipped for extended stays with complete kitchens, living areas, and decks with propane grills. Club members receive exclusive discounts on renting these facilities. For those seeking full-service accommodations, we offer our luxurious six-bedroom lodge located on our beautiful Buffalo Creek Ranch. Chef prepared meals, numerous activities, fishing guides, and an attentive staff complete this exclusive lodging opportunity.
Q. My wife likes to fish with me but prefers indoor toilet facilities and doesn't always like to fish from sun-up to sundown like I do. Are there any options for her?
A. A comfortable clubhouse, The Liars Lair, is provided for members use. The clubhouse is located above the North Park Anglers Fly Shop in Walden. Amenities include a full bath, kitchen, and sitting area. WI-FI, television, a fly tying bench, and comfortable seating are provided. It's a perfect place for members to take a break from fishing and catch-up on the latest news, read a book, have a cup of coffee, throws a poker game, or check your emails. The Liars Lair is open from 7am to 7pm, 7 days a week during June through September and 7am to 5pm during April, May, and October.
Q. I like to camp. Are there any camping opportunities on the club properties?
A. Access to the club properties is for angling activities only. Camping is not permitted. However, the majority of land in North Park is public and camping opportunities are plentiful. There are a couple developed/commercial campgrounds available in the area as well.
Rates:
Q. How do the membership types differ and what are their costs?
1. Individual Membership: entitles a single person to full membership benefits.
$1,500 One-time Initiation Fee
$2,900 Yearly Dues
$600 Minimum Use Fee **(for use towards guided trips and premium lodging options)
$4,500 (First Years Membership) $3,500 (2nd & 3rd Years Membership***)
**This fee is assessed to members at the end of the season if they have not spent $600 on club guiding or lodging.
***Charter Members joining the Club in 2013 are guaranteed the same membership costs for three consecutive years.
2. Corporate Membership: entitles two members of the corporation to full membership benefits**
$3,000 One-time Initiation Fee
$6,000 Yearly Dues
$1,200 Minimum Use Fee *(for use towards guided trips and premium lodging options)
$10,200 (First Years Membership) $7,200 (2nd and 3rd Years Membership***)
*This fee is assessed to the corporation at the end of the season if they have not spent $1,200 on club guiding or lodging.
**Corporate memberships allow you to send a limited number of guests unaccompanied by a member.
***Charter Members joining the Club in 2013 are guaranteed the same membership costs for three consecutive years.
Q. What is the benefit of a corporate membership?
A. Realizing the desire for companies to entertain clients and reward employees, corporate memberships permit larger group sizes on club properties and allow the company to send some guests unaccompanied by the club member.
Q. How does the guest structure for a corporate membership work?
A. A corporate member may bring up to 6 accompanied guests with him at any time (guest fees of $125/person apply). Corporate members also have the added benefit of sending guests that are unaccompanied by a member (guest fees of $125/person apply). This privilege is limited to a total of 20 user days (user day = one individual person fishing for one day) during the course of the season and the same guest may not spend more than four days on club waters during the season.
Q. If I have a corporate membership and send an unaccompanied guest, how will they know where to fish?
A. Due to the immensity of the club properties and in an effort to provide a quality experience for all, club policy requires that all unaccompanied guests utilize a club guide. The cost for the guide is $350 for a full day and includes instruction, transportation around the properties, streamside lunch, rental gear (rod/reel, waders/boots) and 6 flies. Guiding unaccompanied guests ensures they have a great experience and protects our valuable resource.
Q. What is the Minimum Use Fee for?
A. In order to provide a quality club, we believe it's important to have a quality guide staff and various lodging alternatives. The minimum use fee will help provide funding to make both available to members. Essentially, members are required to spend a minimum of $600 ($1,200 for corporate membership) on guided trips, shop purchases, guest rod fees, or our premium lodging over the course of the season.
Q. What if I don't meet the Minimum Use requirement?
A. If you have not spent at least $600 by October 31st, you will be billed for the remaining deficit. For example, if you have only spent $350 by the end of October, you will be billed for an additional $250.
Q. What are the costs of guided trips, daily guest passes, and the premium lodging offerings?
A. Special "members only" pricing for guiding is $350 per full day for 2 people (lunch, beverages, and transportation included). Daily guest passes are $125 and allow a non-member to accompany you on club waters for the day. If a non- member accompanies you on a guided trip, the daily guest pass is still required. Member's special pricing for lodging is:
The Sportsman's Retreat: $125 for 2 people, $25 each additional person (maximum 6)
Eagles Watch Townhome: $100 for 2 people, $25 each additional person (maximum 4)
The Headwaters Cabin: $195 for 2 people, $50 each additional person (maximum 4)
The Buffalo Creek Lodge: 15% discount (visit www.buffalocreek.com for packages, amenities, and pricing)
Q. When are the membership fees due and how long are they valid?
A. Memberships are valid for a full year and both the initiation fee and yearly membership dues must be paid in full at the time of joining. There are two billing dates: one is due by April 1st and the other due by July 1st dependent on the date you joined the club. If you join the club prior to July 1st of a calendar year, the anniversary date for your membership renewal will be in the spring (April 1st). If you joined the club after July 1st, your billing anniversary date will occur mid summer
(July 1st). Dues must be paid in full within 10 days of billing date or membership is forfeited.
Q. What will memberships cost in the future? Is there any price guarantee?
A. As costs continually rise, there may become a need to increase membership dues sometime down the road. However, it is our goal to run the club efficiently to avoid price increases. Persons joining the club in 2013, our inaugural year, will be considered Charter Members and receive a three year price guaranty.
Q. The North Park Anglers Fly Fishing Club sounds great but I research everything thoroughly before I purchase. Can I try out the club before I join?
A. Yes, we offer a full day guided tour of the club's property for $600. If you join the club, the tour will constitute your member orientation tour and $600 will be credited toward your membership costs.
Q. This club is perfect for my needs, how do I join?
A. You can call our club office at North Park Anglers (970) 723-4215 or call the club managers directly: John Ziegman (970) 723-4045, Scott Graham (303) 981-8578
General Considerations:
-No camping, campfires, or littering is allowed.
-Hunting, shooting, rifles, handguns, or bows are not permitted on club properties.
-ATV's, motorcycles, and bicycles are not permitted on club properties.
-Club members must sign contracts and liability release waivers upon joining.
-Members' guests must sign liability waivers prior to fishing club waters.
-Club members will be held financially responsible for any property damage caused by their (or their guests) negligent actions.
-Gates must always be left as you found them; if they are closed when you come to them–please close them once you've passed through, if they were open—you may leave them open. Please remember the club properties are working ranches with cattle in various pastures. Leaving a gate open could allow cattle to escape, causing cowboy needless hours of extra work. This situation is severe enough to warrant termination of membership.
-Members must use only specified roads and parking areas to access fishing beats.
-Members must possess a valid Colorado fishing license.
-Members are accessing fishing opportunities on private, working cattle ranches and must be respectful of private property and not interfere with ranching operations.
-NPAFFC reserves the right to change or modify any rules, regulations, policies, or pricing structures deemed necessary for the proper and safe management of the club. Proposed changes will be posted on the website and through emails to club members.
-NPAFFC management may, upon their discretion, cancel any membership as it deems fit for any action that does not conform to the clubs policies. Notification of termination will be made in writing and effective immediately. If the membership is terminated, all membership fees/dues and privileges are forfeited.