History
Early Day Indians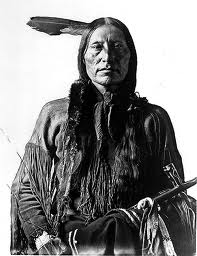 Prior to 1820, the Ute Indians spent their summers in North Park, living on deer, buffalo, antelope, and other kinds of game. The severity of the winters forced both the Indians and the Wildlife to lower altitudes in the late fall. As soon as the white people began to settle around what is known as Bellevue (North West of Fort Collins), the Utes made frequent marauding expeditions on the settlers, stealing their horses in the night, and then slipping back into North Park where the Whites were afraid to follow. They made these trips through a low pass in the Medicine Bow Range known as Ute pass today. The Arapahoe's also made frequent hunting trips into North Park, coming in from the southwest over a pass described by L.T. John F. Freemont, as one of the most beautiful he had ever seen and was named Arapahoe pass after those Indians. The Utes and Arapahoe's were bitter enemies, and there were many battles when they chanced to meet. Besides these well worn trails, other mute evidences of Indian life of pre settlement times are found at the north end of the Park. Several large tepees still stand in a sheltered and secluded spot, left by a band of Utes, who fled into North Park after the Meeker Massacre in 1879.
Early Day Trappers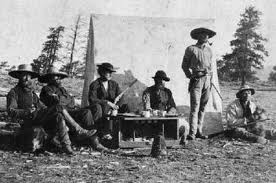 The first white men to visit and explore North Park were the fur trappers. The called it "New Park" to distinguish it from Middle Park (Granby), which they had already frequented for years. The Beaver were particularly abundant along these streams; and Joseph Bijeau told in 1820 of the good trapping he had in North Park a few years before while with the Chateau and DeMunn expedition. About the same time Jaques Laramie trapped for the Northwest Fur Company and James O. Pattie during 1827. In 1830, Fraeb and Gervais trapped through North Park, then in 1831 for the Rocky Mountain Fur Company, as did Kip Carson and Captain Gaunt. Jim Bridger, Old Bill Williams and Jim Baker were other famous trappers who ran their lines in North Park. In 1855 the famous Irish Hunter, Sir George Gore, guided by Jim Bridger, made his spectacular hunting trip through North Park killing thousands of deer, buffalo, and antelope. Lt. John F. Freemont came through North Park in 1844, and was very taken with the place, describing it in glowing terms. He said that no river could ask for a more beautiful origin than the Platte.
Colorado Territory Organized
In 1861, when Colorado territory was organized, there were 17 counties, and North Park was believed to be a part of Summit County. In 1874, Grand County (Including North Park) was formed out of Summit County. Both Larimer County and Grand County claimed jurisdiction over North Park. In 1866, the Colorado Supreme Court ruled that the territorial legislature of 1861 intended that North Park be part of Larimer County, and until 1909 it remained so. An Interesting excerpt from this decision is as follows.
"…Much stress is laid upon the fact that, for a long period of time, Larimer County laid no claim to the territory in dispute. But, in this connection, it must be remembered that the North Park is geographically isolated, and, for a long time after the passage of the act organizing the counties of the territory, was inhabited. According to the testimony, it was a hunting ground for the Indians, to which it was dangerous for the white man to resort. Whether it was in this or that county was a neglected question, which no one was especially interested in raising. Occupancy and settlement brought it to notice, and gave it some civil and political importance. The contention for its municipal control followed close in the footsteps of the first settlers. We find nothing in this point justifying a different conclusion from the one stated."
ON MAY 5, 1909, JACKSON COUNTY WAS FORMED OUT OF LARIMER COUNTY WITH WALDEN AS THE COUNTY SEAT. IT IS BELIEVED THAT JACKSON COUNTY WAS NAMED AFTER PRESIDENT ANDREW JACKSON.
Early Day Miners
After the trappers and hunters came the miners and prospectors. James O. Pinkham was one of the first prospectors in the Park. He was and old Irish Canadian standing five feet, five inches tall, becoming a famous and important figure in the early history and settlement of North Park. He began panning gold in the early 1870's, spending the long cold winters in Laramie, Wyoming and the summers in North Park. He believed that North Park was the richest and finest country in the world. In 1874, he built a home and interested others with his tales of rich placer land. By 1875, nearly 100 men were prospecting for placer gold around the Rabbit Ears, Independence, and Owl Mountains.
In the summer of 1870, there were approximately 20 men mining for Gold on Independence Mountain in the northwest area of North Park. In late June, another group of 20 miners came from Cheyenne through North Park on their way to Hans Peak Mines. They stopped at Independence Mountain Camp and enticed a number of men to join them. Several days later a band of about 60 Utes came into the Park over Ute Pass, camped 10-15 mile southwest of the Independence mines. It is reported that on July 1st that year Chief Piah and Chief John went to the mines and told the miners to leave because North Park belonged to the Utes and so did the Gold. The miners left, arriving safely in the towns of Laramie and Sherman, Wyoming.
Early Day Settlers
The prospectors made trips in and out of the park, carrying tales of a land which would make a stockman's paradise. Lush tall grass stood higher than an antelopes back. Late in summer when the seeds were ripening, it looked like fields of waving grain. It didn't take the cattlemen of the plains long to profit from such news. In the summer of 1878, Reid Matthews, who was running a wholesale butcher business in Leadville, went to Utah and bought a herd of cattle. Then he and his partners drove the herd into North Park, fattened them on the abundant grasses till fall, and on to Leadville to be butchered. In 1879, there was a bad drought around Fort Collins, Livermore, and Virginia Dale County, and the stockman had to seek new pastures for their herds. In spite of North Park being considered Indian Country, some of the bravest decided to take a chance and drover their cattle in. C.B. Mendenhall bought 3,000 head of Texas Steers, bringing them to North Park to graze. Other Ranchers brought in cattle at the same time, but following the Meeker Massacre of 1879, most of the ranchers drove their cattle out of the park, except C.B. Mendenhall, Wilson, and Jones. The following summer, ranchers drove their cattle back to graze and many new people entered North Park to start their own Ranches.
Also during 1879, the Federal Government established the Pinkhampton Post Office, and appointed James O. Pinkham it's first postmaster. A Wagon road from Laramie to Teller City was located in the southeastern corner of North Park and built in 1876 to supply the gold and silver mines. It ran from Laramie to Pinkhampton; then 3 miles south to Pap Rice's Ranch Road; seven miles further south to a station called "Canadian" at the river crossing which was run by a Mr. Godfrey; farther south to a station called "Safe Here" kept by Granny Richards; then up the Michigan River and across Owl Mountain to Teller City.
November 1878, Jacob S. Fordyce brought his family and a herd of milk cows into the Park, settling on the banks of the Platte at the north end. They stayed the entire winter, milked the cows, packed the butter in tubs, and in the spring took it to Laramie to sell. The Fordyces were the first white family to spend an entire winter in North Park.
The year of 1879 saw the exciting start to silver mining in Teller City, bringing more people into the county than any other thing. The mines began operating and by 1880, Teller City had a population of nearly 2,000 residents. In 1882, a toll road over Cameron Pass from Fort Collins to Teller City was completed. Good veins of Silver, Gold and some lead were discovered, but transportation was so expensive, people couldn't afford to ship the precious metals out. By 1885, Teller City was abandoned. Other towns and other small mining camps were also abandoned including Hitchens Camp, Lulu City, Dutch Town, Crescent City, Tyner, Michigan City, Cummings, Park City, Mason and Jack City. The small camps like Cummings, Park City, Mason and Jack came into existence during the early boom years. Most were located on the old stage road from Cameron Pass to Teller City. The community of Gould came into existence a few years later at approximately this same location. By 1888, moist of the gold and silver mining was abandoned, and those who never struck it rich began ranching as a livelihood. By the turn of the century, all of the best ranch land along the rivers was fenced off and homesteaded.
Early Day Ranchers
The first settlers hunted for and lived on Wild Game. Hunting was as much of a business for them as attending to their ranch work. North Park in the late 1880's was a paradise of Wild game. There were thousands of Antelope that spent the summers, then migrated along the Platte River to lower valleys in Wyoming. Deer and Elk were also plentiful, diminishing after the arrival of settlers. There were three Buffalo left when the first settlers came, but soon they also disappeared. Other wild animals included bears, Mountain Lions, mountain sheep, and Beaver as well as Sage Hens, grouse and Ducks. There were no trout in any of the area streams when the first settlers came, but in 1880's, the white men stocked the streams with three different kids; Native, Eastern Brook, and Rainbow. Trout fishing has been a striving pastime ever since.
Raising sheep in Jackson County began in 1918 with about 500 head being raised in small flocks on ranches for home consumption. After the depression of 1921 when many cattlemen went broke, North Park ranchers began putting flocks on the ranges. However, cattle ranching remained the dominant form as ranching then as now. In 1878-1879, when stockmen first began to drive their herds into North Park, they believed that the cattle and horses could survive year round on the fine hay; however, the winter of 1883-1884 was so severe that half the stock died. As a result, most of the ranchers purchased new mowers and rakes prior to the next summer's haying season in preparation of putting up the wild hay for winter feed.
Hay has always been the main agricultural crop in Jackson County, with about 100,000 acres being in Native mountain hay and only 37 acres in other crops. For years, all the hay was kept for food inside the park, but in 1914 ranchers began to bale and ship it quite extensively.
Early Day Towns
By the early 1890's North Park was pretty well settled in every direction and a central point for securing supplies became necessary. As a result, the town of Walden, elevation 8100 ft, the present County Seat, was established in the middle of North Park, located in the vicinity of two wagon roads from Laramie, Wyoming to Teller City and from Albany Wyoming to Granby. The town was named after Mark S. Walden, postmaster of the nearby settlement, Sage Hen Springs. Until the coming of the railroad in 1911, supplies of every kind had to be hauled by teams from Laramie. The freighters used two or three wagons and a 12 or 14 horse team driven with a jerk line.
A mining boom, similar to the Teller City boom, was experienced at Pearl where Copper was discovered in 1900. Soon six mines were developed by steam power: the wolverine, Cwede Graup, Big Horn, Tully, Zirkel, and Round Top. A large smelter was built in 1905, ran one day and was abandoned because of the high cost of transportation.
Much of North Park has been found to be under laid with good quality coal. At least a dozen mines have produced coal for neighborhood use at various times. In 1890, the Riach brothers discovered a good grade of coal on their ranch 18 miles south of Walden. In 1905, an Eastern Firm bought the mine and commenced more extensive development. A Laramie, Hahns Peak, and Pacific Railroad line was built into it in 1911, founding the town of Coalmont. Coal was shipped from those mines for many years. The mines and the town of Coalmont have been owned by the North Park Coal Company, headed by L.C Moore of Fort Collins, but at present time the mines are not operating. Recently there have been three open cut coal mining operations in Jackson County, two of the mines located east of Walden and one is South of Coalmont. Fluorspar was discovered near the Wyoming border in 1908. Several claims were purchased by the Colorado Fluorspar Corporation, which shipped 18,000 tons before closing down in 1926.
It reopened during World War II and subsequently purchased by the Ozark-Mahoning Company, which worked production up to 100 tons daily until closing down in 1959. The settlement was tore down, but the mines reopened in 1969, and were under full production until 1974, when it permanently shut down. Only faint traces of its settlement can be found today. The first Oil well was drilled in Jackson County in 1926 by the Continental Oil Company, thus establishing the North McCallum Oil Field. By 1960, the field was producing 2.5 million dollars worth of Oil annually. Production from this field has declined, but other oil fields, such as the Lone Pine Field, have preserved the oil industry in the county. In the mid 1930's, commercial lumbering began and remained an economic force until the mid 1980's when Michigan River Timber Company pulled out of its location on the outskirts of Walden.
Looking Ahead
The Economy of Jackson County is based chiefly on ranching and agriculture. The past years of mineral production, logging operations, and natural resource extraction industries have all but been gutted by the political climate of the past couple decades. The past five years have witnessed a somewhat renewed interest in drilling for oil, but it fluctuates greatly based on the oil markets and political climate of the decision makers regulating the oil and gas industries.
Recreation has fast become a big economic boost to the area with its many streams and lakes for fishing and camping, its mountains and forests for hunting and other sports including: hiking, backpacking, snowmobiling, cross country skiing, etc…
The population of Jackson County remained fairly stable throughout much of its history with some fluctuations as a result of the mining booms. As a result of jobs lost in the natural resource utilization industries, the population has slowly declined over the past few decades. In 1970, the county population was 1811 and currently stands at 1,350, of which approximately 650 live in Walden.
Jackson County represents a disappearing culture basic to our American Heritage. It is one of few remaining agriculturally based mountain communities in the West.
Bibliography:
Bailey, Adah B. "Jackson County (North Park), Colorado". Jackson County (North park), Colorado resident.
Jackson County Planning Commission, Walden, Colorado.
"Jackson County, Colorado- Comprehensive Long Range Plan". 1968 University of Colorado, College of Environmental design.
"A Land Use Study of Jackson County, Colorado". 1975