The Fishery
This picturesque valley is surrounded by five designated wilderness areas and plentiful National Forest land that are speckled with high alpine lakes and streams, not footprints. These waters thrive with cutthroats and brook trout that are eager to take a fly and unaccustomed to the presence of humans. Long, cold winters provide the snow-pack ensuring ample water to the fishery below. The smaller high-country creeks combine to create the tributary streams which flow out of the foothills and into the valley floor. As the gradient reduces, the water slows and begins meandering through willow-lined hay meadows. Never-ending oxbows, overhanging bushes, and deep cut banks are the hiding places of much larger specimens including wild brown trout and feisty rainbows. Anglers find that larger offerings are what it takes to entice these elusive fish…leave your light tippets and micro flies in your pack because here it's "go big or stay home."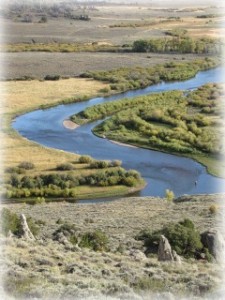 Once the meadow streams combine, a world-class fishery is born; the North Platte River. Two distinct sections within miles of each other make this river unique. In the valley, the river's characteristics consist of a slow meandering meadow river with classic wide riffles, deep runs and braids. On its' journey northward, it tumbles in the spectacular Northgate Canyon, near the Wyoming/Colorado state line, where steep canyon walls, boulder fields, and dreamy dry fly flats are loaded with wild populations of wily browns and rainbows. Caddis, mayflies, stoneflies, crustaceans, and terrestrials flourish in these river environments offering not only sustenance for the trout, but ample opportunities for anglers wishing to match the hatch.
Within the valley, numerous stillwaters, often referred to as "sagebrush lakes," attract anglers in pursuit of trout growing to true trophy size. The North Park Anglers Fly Fishing Club offers its members seven of these quintessential trout factories where fish can grow more than one inch per summer month from the abundance of food. Aquatic insects such as scuds, callibaetis mayflies, chironomids, damselflies and more offer a buffet of trout food in addition to crayfish, leeches, and minnows.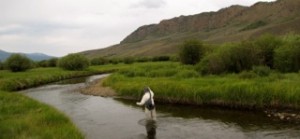 North Park and the club waters are definitely not your average fishery; 6x spools of tippet collect dust, nets never seem big enough, moose outnumber residents, and solitude is not a rarity but the norm. This is a true angling paradise that has not been discovered…you have to fish it to believe it. Join today and start believing.