Clubhouse
Located above the North Park Anglers fly shop, you can enjoy full access to the members-only Clubhouse. The newly-remodeled Clubhouse provides not only a place to relax and share stories and photos after a long day on the river, but also a place where you can shower, savor a cup of fresh coffee, watch a favorite movie, tie flies or even play poker.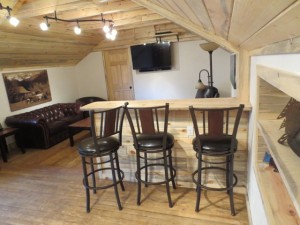 This special spot was designed with you in mind, taking special care to acknowledge the natural surroundings, incorporating rustic pine paneling, distressed plank floors and comfortable Western furnishings. When you're here, you'll feel like you're writing the next chapter in the rich history that made this valley famous during the pioneers' journey out west.
The Clubhouse is open to members only, 7 days a week from 7am to 7pm during June through September, 7am to 5pm during April, May, and October.